April 25, 2022
by Sarah Wray
Tech company Panasonic is due to open its third "smart city" in Japan later this week, on April 29.
The goal is for Suita to become the first urban development in Japan that derives all of its electricity from renewable sources. The community includes features like AI-powered cameras, digital health programs, and sensor-equipped homes to support seniors.
Suita is a 23,000 square meter site located in the northern suburbs of Osaka and joins Panasonic's other Sustainable Smart Cities (SSTs) – Fujisawa, south of Yokohama and Tsunashima, between Yokohama and Tokyo.
The Sustainable Smart Cities, which are all located on former Panasonic manufacturing sites, aim to showcase solutions related to renewable energy, mobility, public safety and health.
At Suita, Panasonic also wants to promote multi-generational living to deal with aging populations and loneliness. In Japan, 30% of the population is aged 65 or over and the number of single-person households is increasing.
Panasonic CEO Yuki Kusumi said, "We promote the sustainable development of smart city communities with the aim of solving global environmental problems and enabling people to lead happy lives, both physically and mentally.
The development comprises 362 residential units, with condominiums for families and seniors, and smaller units with shared facilities designed for single-person households.
The goal is for Suita to get "virtually 100%" of its electricity from renewable sources within five years. Solar energy is widely used and large storage batteries provide a backup solution in the event of a supply disruption, for example due to a natural disaster.
The Suita complex also includes a wellness center with serviced housing for seniors and a group home for people with dementia, as well as a shopping complex and central community park.
Residents have already started moving in.
Artificial intelligence
In recent updates, Panasonic has shared more details about the technology deployed in Suita.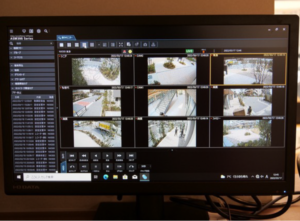 AI-powered cameras in public spaces will assess compliance with COVID guidelines such as overcrowding and mask-wearing, and also monitor falls and residents who may be lost due to dementia.
Sensors embedded in older residents' household appliances will be able to detect changes in behaviors that could indicate cognitive decline or the onset of dementia, so that support can be provided.
Residents can also choose to share health-related data from wearables and smartphones to an app that makes personalized recommendations.
Shared bikes will be available along with facilities and meeting places to "encourage interaction between generations and help combat loneliness".
Panasonic said its sustainable smart cities in Japan are in the works, and services are constantly being adjusted based on feedback from residents.
In the longer term, the company aims to use the experience of the SST program to inform and support similar developments in Japan and abroad. These are currently smart housing projects in China and Germany.
Panasonic has developed Suita with a number of partner organizations including transportation, security, mobile communications and utility companies. It will be managed by a "governing board" with input from partners, residents, local government and academia.